Taipei Times 2012.08.20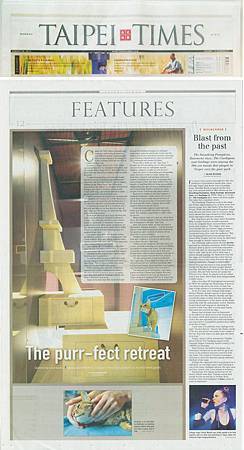 The purr-fect retreat
Catsle (貓守城堡) offers aromatherapy, massages and rooms designed to suit different guests' temperaments. But humans hoping to be pampered at the boutique hotel are out of luck — Catsle is feline-only.
Located in Taipei Arena (台北小巨蛋), Catsle opened in May 2011 by translator, interpreter and cat fancier Renee Ling (葉妍伶), who didn't like to leave her own beloved pet behind while traveling for work.
"I started researching cat hotels and boarding services, but I found few that satisfied me," says Ling, who has also fostered cats for animal welfare group Taipei Stray Cats Protection Association. She talked to a designer friend about bringing her vision to fruition: a cattery that would offer large, tall kennels created to make guests (and their owners) feel at ease.
Catsle's ten spacious rooms were an important consideration for Jeanine An (安家慶) when looking for a place to board her pet An Hsiao-mi (安小米), who she describes as good-natured but shy.
"I boarded An Hsiao-mi at a vet before, but I felt very sad that my cat was shut in a cage all day," says An. "The rooms at Catsle are big, with places for them to jump."
Each room can hold up to four cats from the same household and is designed in tribute to a major city, with play structures and cubbies based on landmarks (a miniature Colosseum in the Rome room offers plenty of windows for shy kitties to peek out from, while Paris's Eiffel Tower is a sturdy wooden climbing frame for rambunctious cats).
Cat guests enjoy their own water fountain, air filtration system and individual playtime with Catsle staffers. But a key selling point for many owners are the web cams with 24-hour streaming video and speakers in each room.
Olive Cheng (鄭月琴) boarded her cats, two-year-old GiGi and eight-year-old DiDi, at Catsle for one month last fall while recovering from surgery.
Cheng frequently logged onto Catsle's video feed from her hospital bed.
"I could see them sleeping at night and it made me very happy to see how well they were behaving," says Cheng. "When I talked to them, they would raise their heads to look at the speaker."
While searching for catteries, Cheng was reassured by Catsle's willingness to answer her most detailed questions about cat safety, including what kind of cleaning chemicals are used to disinfect each room.
Taipei Arena was Ling's first choice for Catsle because the building is designed to withstand earthquakes, typhoons and floods, but she says the bidding process for a storefront was time-consuming and frustrating. Ling was about to give up when the 2011 earthquake and tsunami hit Japan.
"It was like a wake up call," says Ling. "I thought that if I am taking care of other people's cats and there was an earthquake and the building collapsed, I might as well die in it."
Ling still takes on translating and interpreting cases, but often works in Catsle, taking care of its furry clientele and teaching classes for owners, including one on how to massage their cat's pressure points. She hires staffers who are capable of handling different feline personalities ranging from shy and nervous to rambunctious and domineering. Catsle's current cat carers include former customers and Ling's mother.
Each cat (or family of cats) are assigned a designated playtime, during which they are let out of their room to romp around the rest of the store. If a cat is too shy or nervous to leave its room but still wants company, then a staff member will go in and sit with it.
頁面 2∕2
Catsle also takes steps to make sure cats settle as well as possible into their temporary home. For example, Ling refuses to offer a pick up service.
"Many owners want us to pick up cats at their home, but I always explain to them that this feels like kidnapping to the cats," says Ling.
After new guests arrive, at least one hour is allocated to bonding activities — for the humans, that is. Catsle staffers spend the time addressing the questions and concerns of owners (whom they refer to as cat parents).
"During that hour, parents can build more trust and confidence in us and we get to know more about the cats," says Ling.
Owners are encouraged to decorate their cats' rooms, carefully scattering toys around or fluffing up blankets brought from home. Though doting cat parents sometimes worry about their pets feeling lonely without their company, Ling says it is often the humans who are the most anxious.
"It's like getting kids to school on the first day," says Ling. "If you linger too long, your cat will feel nervous, too, but once you let go, they will find new friends, they meet their new teacher and classmates and explore their new space."
For rates and more information, visit catsle.pixnet.net/blog (Chinese and English Web site). Catsle is located in room 6 on the first floor of Taipei Arena at 2, Nanjing E Rd Sec 4, Taipei City (台北市南京東路四段2號), tel:(02)2579-3916, e-mail:catsle@pixnet.net.